CAPE TOUR
During and just after the 2nd World War, five old fellows used to play together every Saturday afternoon at the Port Elizabeth Lawn Tennis Club – Chester Turner, Bill Tough, Cecil Henderson, Edgar Williams and Andrew Gray.
Socializing after a drink during the AGM of the South African Lawn Tennis Association in Johannesburg, our President Marchant Davies made mention that these old chaps, all in their 60's, played every week and how well they played. Immediately Brigadier Johnny Daniel said he was in a similar group in Cape Town, and challenged our chaps to a match.
This challenge evolved into a twice a year contest, home and away. After several keenly contested matches, there emerged several unusual rules which were to become the hallmark of these matches. Each match consisted of only two short sets with a tiebreaker at 5 all. You played to win, changed partners for every match, and the results were carefully posted. Regardless of which side won an overall match, no mention was made of the result, and in post-match celebration, the result was declared an "honourable draw"!
These matches are as keenly contested today as they were in the 1950's. One has to be 50 to be eligible, although a few of us have slipped in during our 40's because we looked like 50. 70 is generally regarded as retirement age, but a few have returned for a 2nd and 3rd farewell tour. The incumbent 12 tourers get first dibs for the following year.
Each year we are hosted by the Tennis Clubs of Strand, Kelvin Grove, Constantia, Pinelands and WPCC with the five matches starting each day at 2pm. The year 2000 marked the 50th anniversary of the inaugural challenge, and in 2010, 60 years of touring was celebrated. It is a truly magnificent and unique achievement!
What goes on tour stays on tour!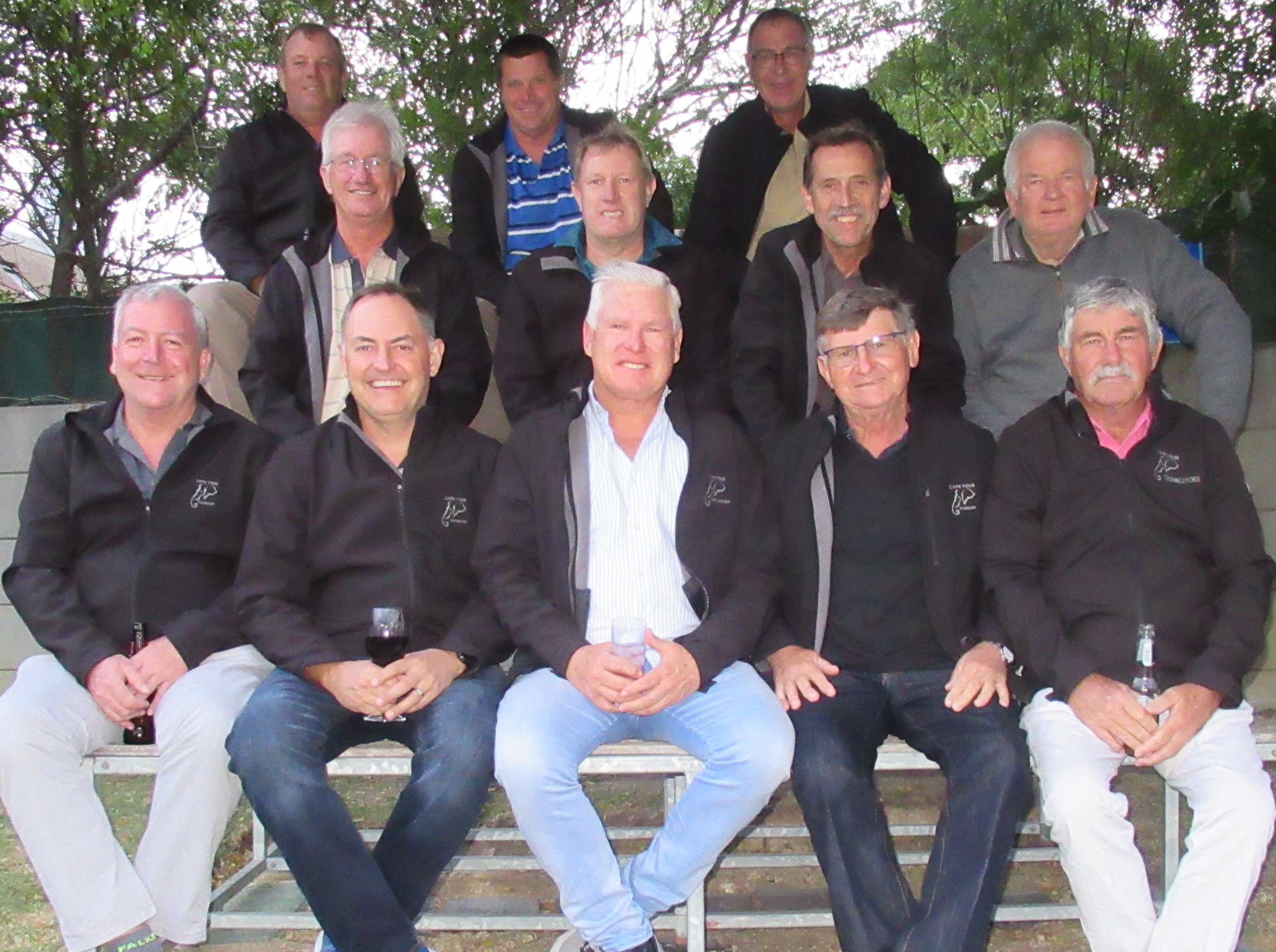 2019 - (back) Mike Fuller, Murray Wrench, Dave Osborne, (middle) Mike Bladen, Graham Howell, Pat Hornby, Donald Jackson, (front) Bomber Kent, Ashley Hobson, Pat Grewar, Danie Bouwer, Tony van Zyl (Absent Brian Glanvill)

2019 with Pinelands - ( back) Mike Fuller, Murray Wrench, Graham Howell, Mario Calvert, Dave Osborne, (middle) Bob Low, Jumpy Wilmot, Mike Bladen, Alastair Wylie, Rory Bosman, Tony van Zyl, Greg du Preez, Nick Kulenkampff, Kevin Dimech, Norman McCarthy, Donald Jackson, Peter de Beer, (seated) Bomber Kent, Ashley Hobson, Pat Grewar, Brian Addison, Danie Bouwer, (front) Ivan Bridges, Sydney Fryer, Pat Hornby, Mike Shergold-Smith, Charles Dearham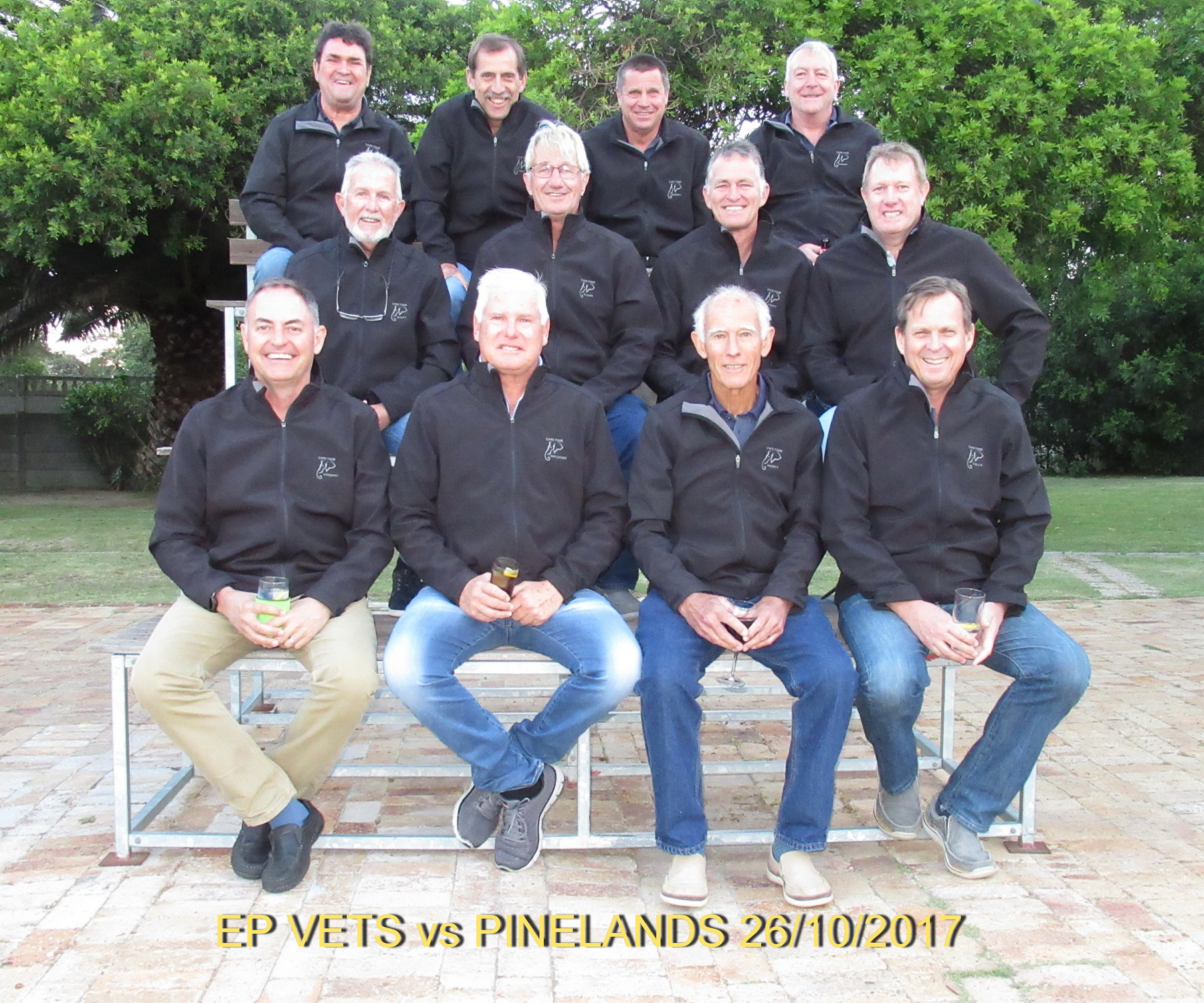 2017 - (back) Brian Glanvill, Pat Hornby, Murray Wrench, Bomber Kent, (middle) Keith Murcott, Mike Bladen, Andrew McLean, Graham Howell, (front) Ashley Hobson, Pat Grewar, Arhur Short, Pete Ellis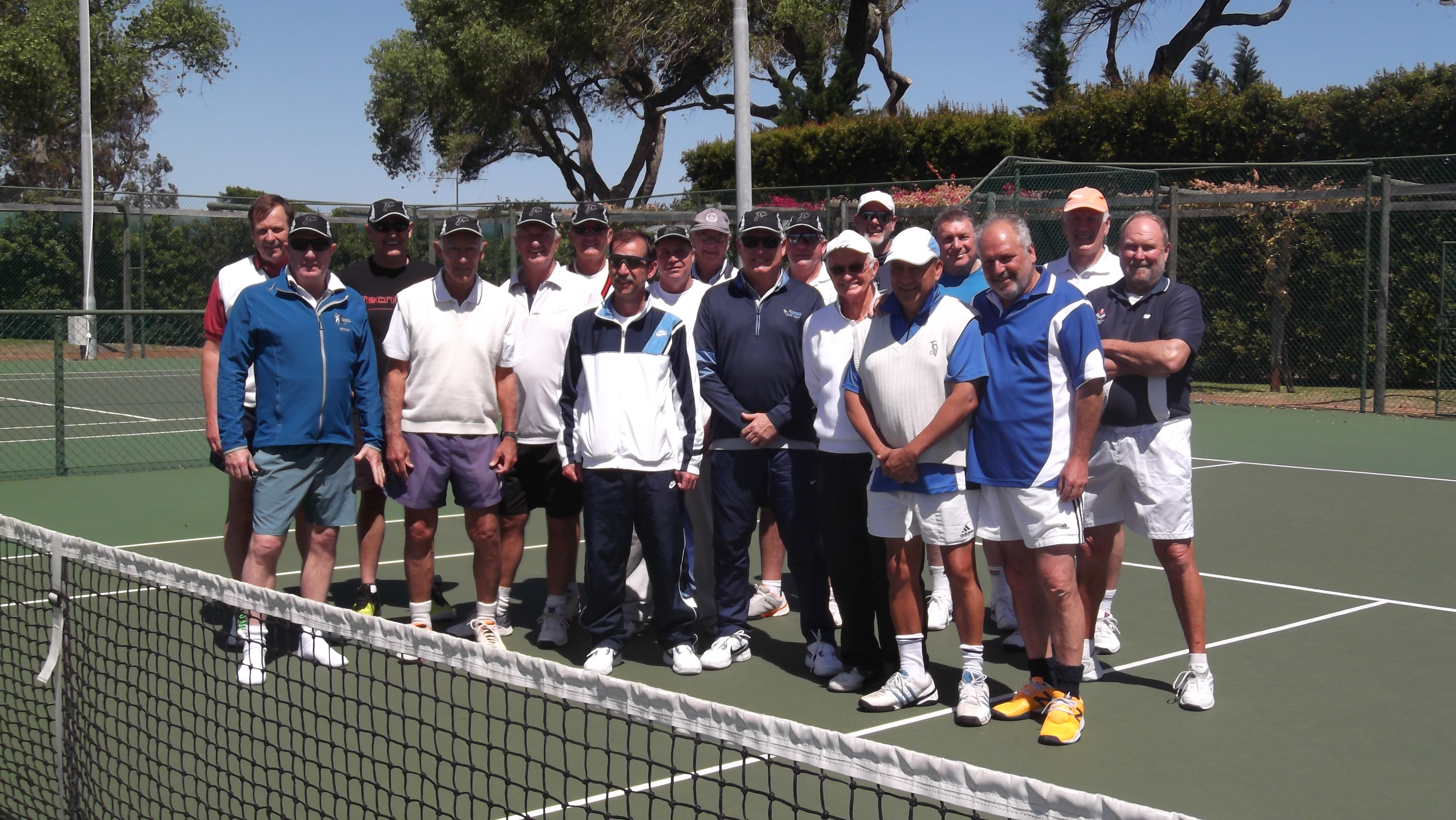 2017 with WPCC - Pete Ellis, Graham Howell, Ashley Hobson, Arthur Short, Mike Bladen, Andrew McLean, Pat Hornby, Murray Wrench, Tim Southey, Pat Grewar, Bomber Kent, Rusty Clements, Paul Offerman, Ron Langdon, ?, Pierre Joubert, John van der Spuy, Scotch Gibb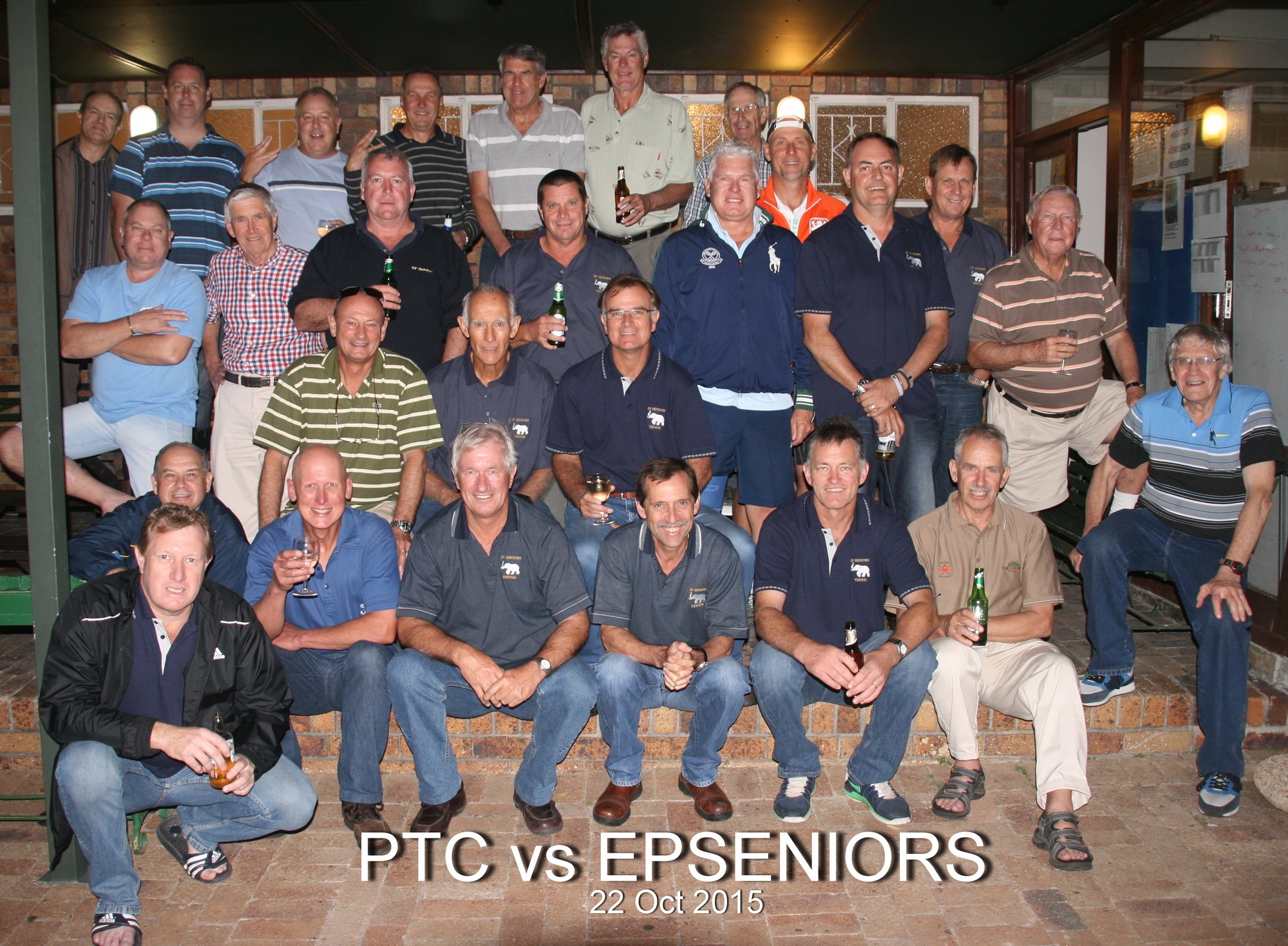 2015 with Pinelands - (back) Ian Hill, Graham Bransby, Brian Addison, Peter de Boer, Geoff Hatt, Jumpy Wilmot, Tony Butt, Norman McCarthey, (middle) Mike Shergold-Smith, Dick Barnes, Bomber Kent, Murray Wrench, Patt Grewar, Ashley Hobson, Pete Ellis, Neville Balfour, (seated) Kevin Dimech, Arthur Short, Hein Sevenster, (front) Graham Howell, Charles Dearham, Alastair Wylie, Mike Bladen, Pat Hornby, Andrew McLean, Neville Eden, Bob Low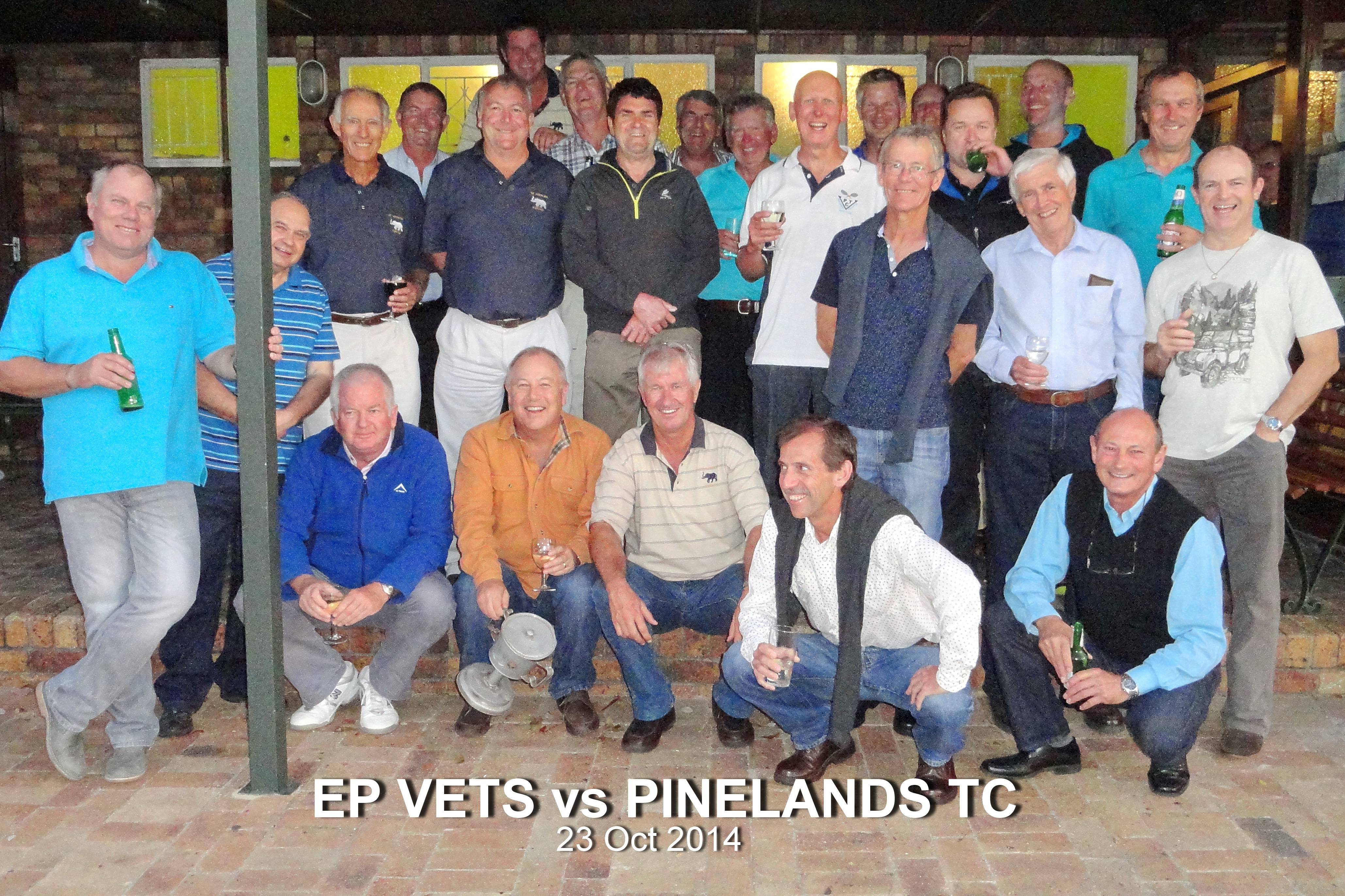 2014 with Pinelands - (back) Arthur Short, Dave Emslie, Bomber Kent, Murray Wrench, Jumpy Wilmot, Brian Glanvill, Geoff Hatt, Gary Loader, Alastair Wiley, Brett Roach, Bokkie du Plessis, Ian Pattinson, James Phillipson, Dick Barnes, Norman McCarthey, Peter de Boer, Ian Hill, (front) Mike Shergold-Smith, Charles Dearham, Donald Jackson, Brian Addison, Mike Bladen, Pat Hornby, Kevin Dimech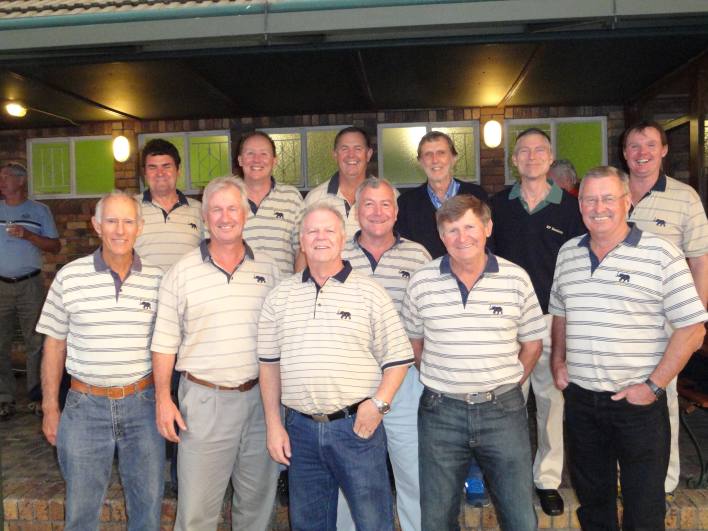 2013 - (back) Brian Glanvill, Mike Godlonton, Dave Emslie, Tony Wildman, Roy Stephenson, Mike Duxbury, (front) Arthur Short, Mike Bladen, Wally Wessels, Bomber Kent, Danie Bouwer, Hugh Collett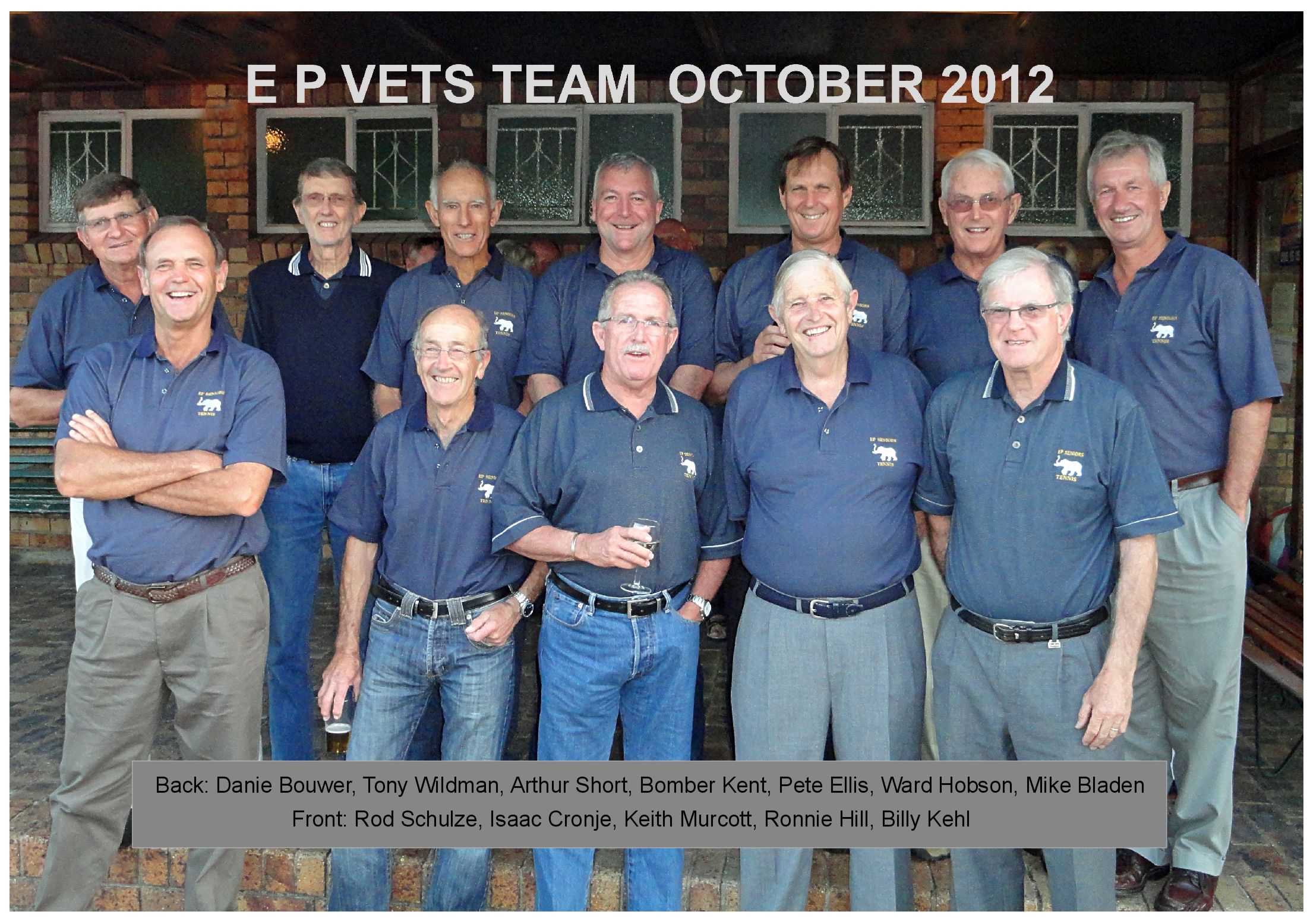 2012 - (back) Danie Bouwer, Tony Wildman, Arthur Short, Bomber Kent, Pete Ellis, Ward Hobson, Mike Bladen,
(front) Rod Schulze, Isaac Cronje, Keith Murcott, Ronnie Hill, Billy Kehl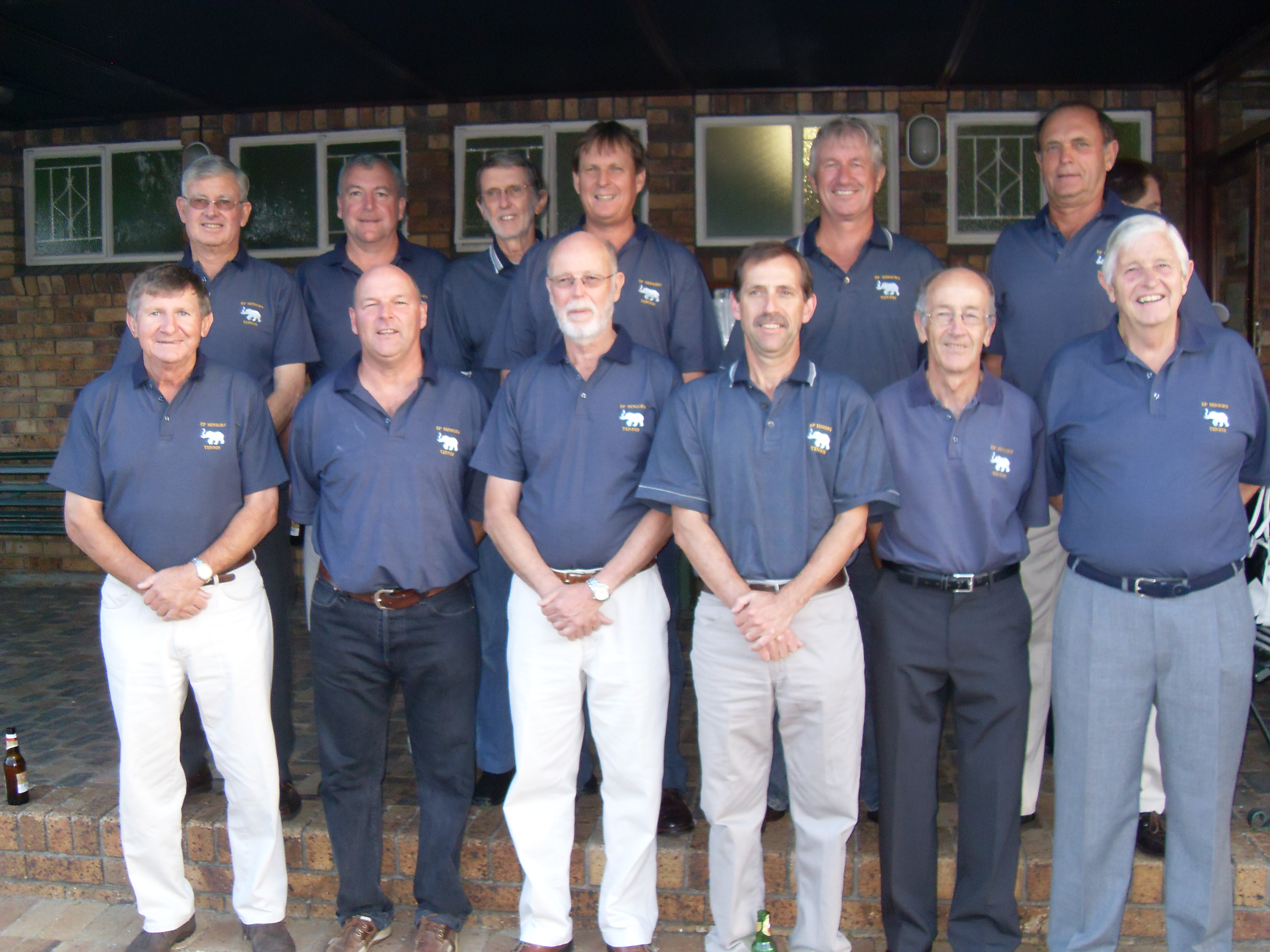 2011 - (back) Anthony de la Harpe, Bomber Kent, Tony Wildman, Pete Ellis, Mike Bladen, Rod Schulze,
(front) Danie Bouwer, Mike Sherran, Brian Philip, Pat Hornby, Isaac Cronje, Ronnie Hill
2010 - (back) Bomber Kent, Mike Bladen, Pete Ellis, Rod Schulze, Ward Hobson, Anthony de la Harpe, Brian Glanvill,
(front)Tony Wildman, Ronnie Hill, Pat Hornby, Mike Sherran, Brian Philip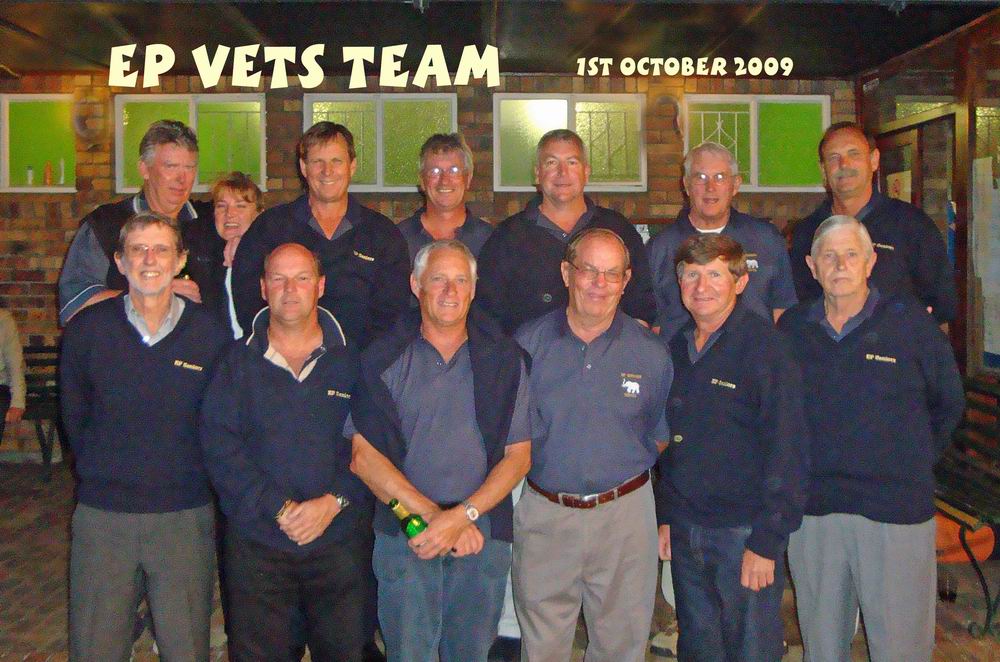 2009 - (back) Gary Loader, Georgie, Pete Ellis, Mike Bladen, Bomber Kent, Ward Hobson, Rod Schulze,
(front) Tony Wildman, mike Sherran, James Luscombe, Chippie Biggs, Danie Bouwer, Ronnie Hill
2008 - (back) Brian Philip, Bomber Kent, Gary Loader, Anthony de la Harpe, Mike Bladen, Rod Schulze,
(front) Ward Hobson, Danie Bouwer, Chippie Biggs, Ronnie Hill, Noel Harvey, Mike Sherran
1984 - (back) Donny Durham, Roger Richardson, Gert Buys, Philip Wessels, Brian Meehan
(front) Pat Grewar, Jack Berman, Niel Bouwer, Gerald Harvey, Paul Morgan-Smith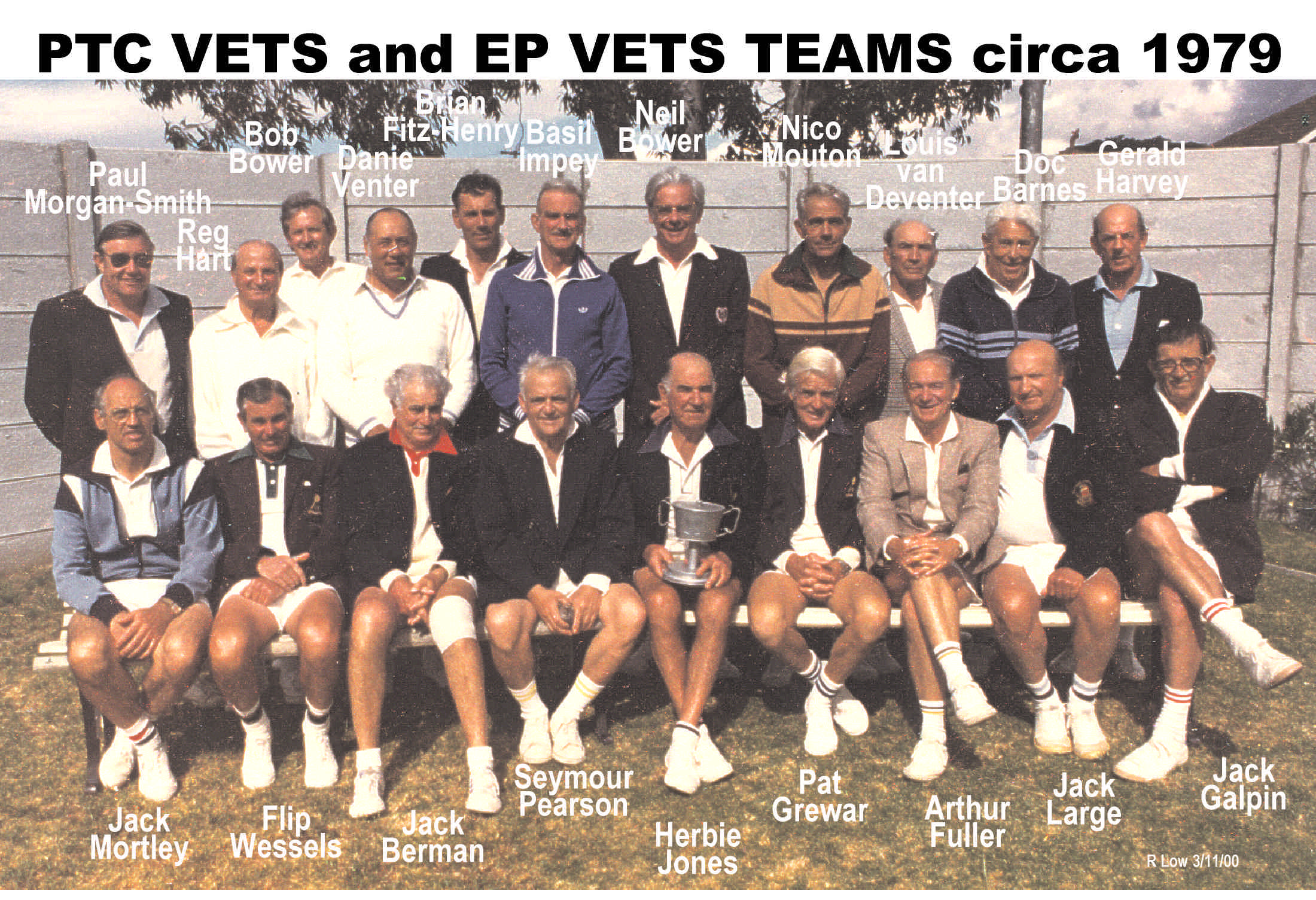 1968 with Pinelands – (back) Joe Jones, ?, Bossie Bekker, Seymour Pearson, Brig Johnny Daniel, Tiger Boast, Jack Galpin, ? Coltman, Fred Miller, Ron Andrew, (front) Jack Large, Dudley ?, Gerald Harvey, ?, Charlie Freeman, Billy Muller, Herbie Jones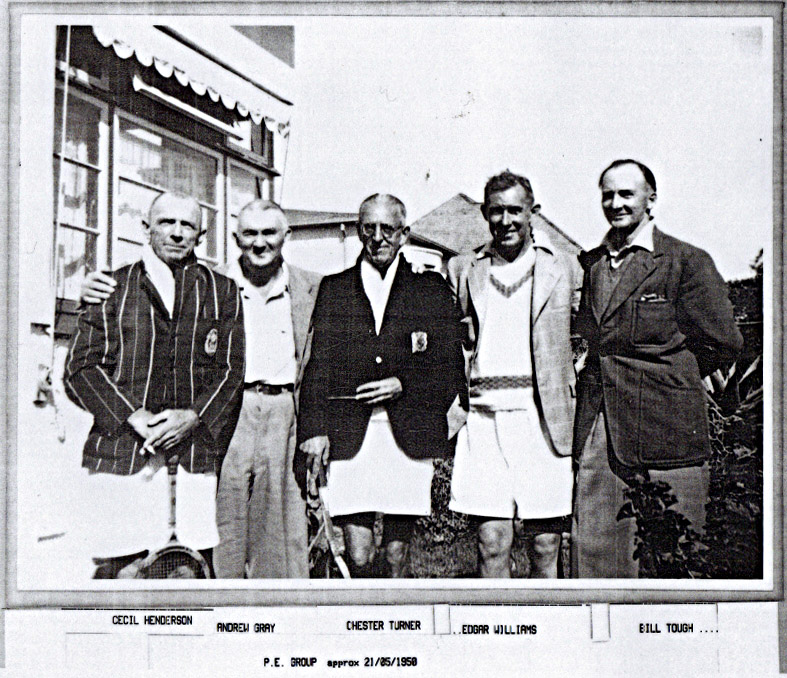 1950 - First team from PE Tennis Club to tour Cape Town – Cecil Henderson, Andrew Gray, Chester Turner, Edgar Williams, Bill Tough